Precision Garage Door Service & Repair
Ramona, CA
Read what people are saying in Ramona, California
14 reviews, Averaging 4.86 Stars!





760-239-9808
Here at Precision Garage Door of San Diego, we work hard to maintain a high standard of quality in our business - with our team, our products, and our service. We live where our customers live in the Ramona area and consider it a privilege to help make homes beautiful, secure, comfortable and convenient. Give us a call, and we'll take good care of you, too!





Date: 1/6/2020
Broken Garage Door Spring Repair
Ramona, CA
This review is for Jon Topping who came out to our place in Ramona in October 2019 and this year to upgrade our older Precision garage door opener (two-stall) and to install another opener on the third-stall, respectively. The service he provided on both occasions was excellent. Jon was very knowledgeable of Precision products and warranties provided. He was extremely courteous, respectful and thorough in all work performed. I will recommend Precision to my friends and family because of the wonderful service provided by Jon.
- Norman and Laurie Richard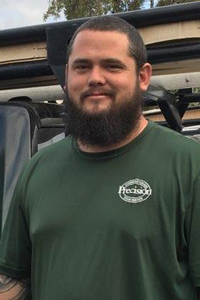 Service Provided:
Broken Garage Door Spring Repair





Date: 12/30/2019
Broken Garage Door Spring Repair
Ramona, CA
James arrived on time and gave me several options for fixing our garage door opener. Once we decided a direction he was quick and professional. He gave me some future options. It was a quick, professional, and informative service call.
- Dan Plough
Service Provided:
Broken Garage Door Spring Repair



Date: 9/19/2019

Ramona, CA
Was unsure door was operational when techs left,!they also left a mess on ground that I had to sweep up, Unfortunately, will not be able to test door since I left town. Will have to wait I was told u would have to lubricate the rollers etc. that should be Part Of Job,
- Harold Eisner
A Response from: tab
talked with tech. resolved





Date: 9/6/2019

Ramona, CA





Date: 8/16/2019

Ramona, CA





Date: 8/8/2019

Ramona, CA





Date: 8/6/2019

Ramona, CA





Date: 7/25/2019

Ramona, CA





Date: 7/14/2019

Ramona, CA





Date: 6/27/2019

Ramona, CA





Date: 6/21/2019

Ramona, CA





Date: 5/22/2019

Ramona, CA
Ramona Average Rating





14 Total Reviews
5 Stars

13 (92.86%)
4 Stars

0 (0%)
3 Stars

1 (7.14%)
2 Stars

0 (0%)
1 Stars

0 (0%)